Chuba Hubbard heads a strong 2021 NFL Draft class of Canadian hopefuls, as the country's presence in American football continues to slowly grow. But it wasn't an easy road for the Oklahoma State running back, who took a path less traveled to the U.S.
When Shomari Williams looks back on his own undertaking, he can't believe how far the proliferation of Canadians in college football — and in turn, the NFL — has come. And yet, when he discusses Chuba Hubbard's path — from Canada to major college football, and now, to the 2021 NFL Draft — he can't believe how far it still has left to go.
Now the recruiting coordinator at the University of British Columbia, one of 27 Canadian universities that compete at the country's highest level of amateur football, Williams has become an advocate and resource for many Canadian players with dreams of playing big-time American football. Few know more than Williams how Canadian players get their shot in the states, or have as much perspective on why some don't.
As a high school player in Brampton, Ontario, near Toronto, he used to set an alarm clock to wake him up every three hours all night long. He'd lumber out of bed; pull a CD out of his computer hard drive, on which he'd just burned a 60-minute highlight video; pop in a blank one to make another; then sleep three more hours and repeat. This was in 2005, and three hours was as fast as his computer would execute the burn, so he could only make about three CDs a night, which he would then deposit in the morning mail, each addressed to an NCAA Division I football coach. He did this every night until he had a CD to send to every D-I coach in America — all 119 of them.
Hubbard didn't have to plead like Williams — he garnered nearly 30 scholarship offers as a recruit, from a slew of top college programs, before settling on Oklahoma State. But the means by which those offers came about — word of mouth — was an even more antiquated method than burning highlight CDs three hours at a time. The right person, at the right time, told the right coach to find out who Chuba Hubbard was. Absent that recommendation, Hubbard can't really say for sure where he'd be right now, what he'd be doing, or whether he'd be considered one of the most promising running back prospects available in the 2021 NFL draft.
That shouldn't be the case for a running back whose speed had been proven world class, and who was known and feared at high schools across the vast Alberta province, with its population north of 4.3 million and square mileage roughly the size of Texas. He was once the world's fourth-fastest 100-meter sprinter in his age group, and one of Canada's biggest high school football stars, yet still needed backchannel vouching to spark recruiting attention in America.
"I was fortunate enough to have someone pass my name on and help me get an opportunity," Hubbard said. "So now I want to pass a favor like that along, times a thousand."
The influx of Canadian athletes in American football has come a long way since Nick Saban once trudged there as an assistant coach at Michigan State to recruit Tony Mandarich, only to miss the 1985 Christmas holiday with his family when heavy snowfall canceled his flight home. The number of Canadian-born players to appear in an NFL game has slowly but steadily climbed over a 10-year period from nine in 2011 to 14 in 2020. Two players who spent their formative years in Canada were top-100 draft picks last year: Steelers wide receiver Chase Claypool and Cowboys defensive end Neville Gallimore.
More are coming.
Hubbard is joined in his draft class by several other Canadians, including Iowa OT Alaric Jackson, Oregon S Jevon Holland, Tennessee WR Josh Palmer, and, fittingly, the very player — teammate Amen Ogbongbemiga — who first dropped Hubbard 's name to the Oklahoma State coaching staff.
Yet while the Canadian presence in American football continues to strengthen, many of Canada's top high school players still must rely on the whisper method, as Hubbard did, to fulfill their hopes of playing American football.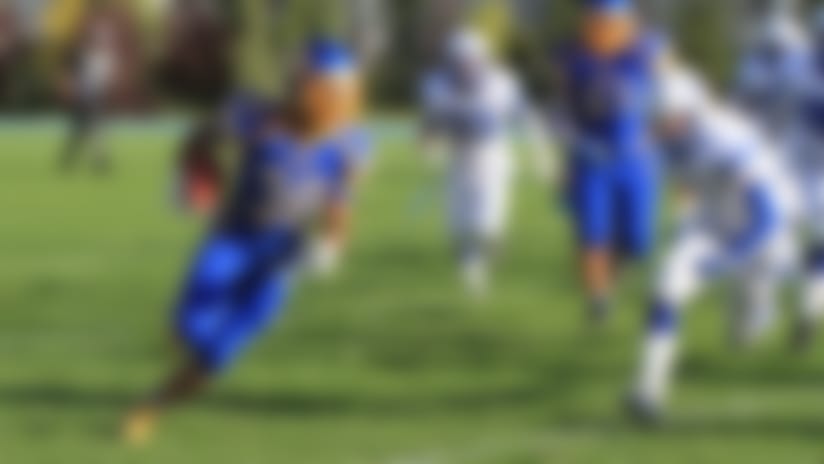 The reality for Canadian football players is this: There is far more interest on their part for playing American football than what is reciprocated by college coaches in the United States. Those talented enough to make the jump face all sorts of adjustments: different rules and field dimensions, a quantum leap in competition, and football fundamentals they might lack in a country where, according to Williams, coaches are typically volunteers and short on training or experience.
Those factors are among the reasons why college coaches don't recruit in Canada, but perhaps the biggest is that there isn't a traditional hotbed for talent in the country where they could travel annually, build permanent relationships with Canadian coaches and consistently reap quality players. As such, when a Canadian high school player does draw interest, it's a one-off courtship that comes about exactly the way Hubbard's interest did: through a single, trusted, personal recommendation.
Since recruiters from American schools don't go to Canada, the players come to them.
Multiple Canadian college coaches interviewed for this story estimated that roughly 80 percent of U.S. college players from Canada facilitate the move by finishing their high school careers — usually the final two of their three prep years — in the states. It's a bold decision, but it circumvents the competitive disadvantages and lack of exposure in the motherland.
"I was definitely looking for an (American high school) where I could get exposure. We looked at places across the country," said Josh Palmer, the Tennessee receiver and 2021 draft prospect who moved from Ontario to play for Florida powerhouse St. Thomas Aquinas High School in Fort Lauderdale. "I knew leaving Canada was the smart thing to do. At that point in time, it was too hard to get noticed. It was definitely different competition-wise. I'm not saying there aren't guys who can play in Canada, but guys down there play with a different type of purpose, and iron sharpens iron."
Clearwater (Fla.) Academy International, a prep school with a heavy presence of football talent from outside the United States, is one of the prime destinations. The school had three Canadians sign with Power Five programs in the 2020 class.
Hubbard took the more difficult path, that of the 20 percent who finish high school in Canada.
He waited and hoped for the right whisper.
"I had all these prep schools hitting me up, saying, 'Come on down, we'll get you right, we'll teach you American football,' " Hubbard said. "But I knew it would probably cost a lot of money, so I cut it out of mind and just decided, 'If I'm good enough, they'll find me. Hopefully.' "
Hubbard attended Bev Facey High School in Sherwood Park, a small community of about 75,000 just east of Edmonton, for all three years — in Canada, high school begins in 10th grade — and gave little thought to leaving home to finish high school in the U.S.
For years, Hubbard believed his path to playing college football would require him to accept a track scholarship at a U.S. college, then join the football team as a walk-on. A track scholarship was the easy part; he was a phenom in that sport by any measure. In July 2015, he traveled to Cali, Colombia, for the IAAF World Youth Championships and ran 100-meter dashes of 10.55 in the semifinals and 10.60 in the finals, which placed him tied for fourth in the world.
Hubbard readily acknowledges that his track times are a big reason his recruitment eventually exploded with offers from top programs. But track wasn't the spark needed to get it all started. Indeed, seven months after he'd paired his impressive high school football tape with his verified clocking of world-class speed in Colombia, he'd still not gotten so much as a call or a letter from an NCAA football coach.
Amen Ogbongbemiga did what a world-class 100-meter clocking couldn't.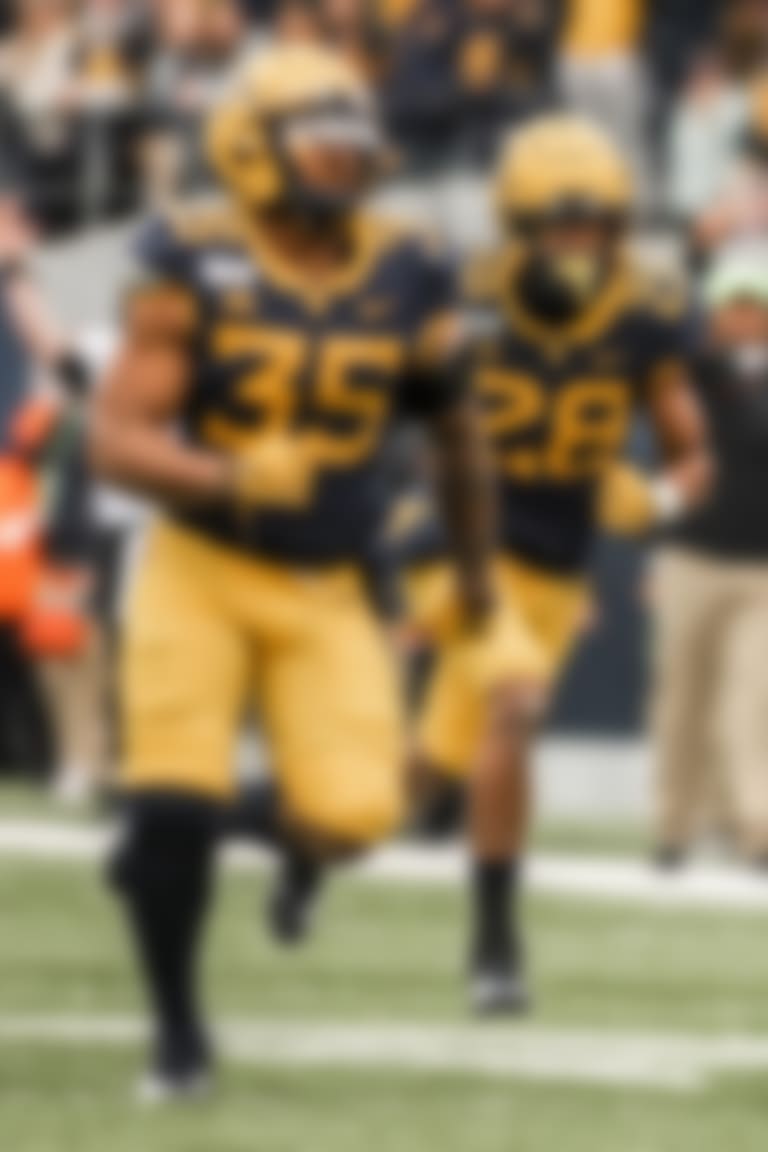 For years, Ogbongbemiga had competed against Hubbard on the frozen football fields of Alberta, including twice for the province's high school championship games in 2014 and '15. As a linebacker, he considered games against the star running back to be personal battles.
"My junior year, we shut him down," Ogbongbemiga said. "My senior year, I'm not going to lie, he ran all over us."
Ogbongbemiga said he first mentioned Hubbard to then-Oklahoma State defensive coordinator Glenn Spencer, but nothing came of it. When he later heard Hubbard had drawn his first offer from Colorado State, he went straight to running backs coach Marcus Arroyo with a more insistent recommendation and provided Hubbard's highlight video. Arroyo watched the clips, then did his homework on Hubbard's track times, and was soon sold. Within days, Arroyo offered Hubbard his first scholarship from a Power Five program, and over the next couple months, interest exploded and offers poured in.
From Alabama. From Oklahoma. From Georgia, USC, Oregon, Texas A&M and more.
"I think every coach who hit me up would say, 'I see you've run a 10.5 — is that really true?' And I just had to say, 'Coach, it's right there on YouTube if you want to see it,' " Hubbard said. "I think that legitimized my tape."
Arroyo, now the head coach at UNLV, believes the timing of Ogbongbemiga's advocacy was critical.
"That was probably one of the biggest advantages in our pocket, that I was in there first, and I had a relationship already built before Auburn and TCU and a bunch of other schools came in on him," Arroyo said. "I was worried about Oregon coming in late because he wanted to run track. We managed to hold them off, too."
Had Ogbongbemiga not noticed that Hubbard had been offered by Colorado State, he might not have pressed the coaching staff about recruiting Hubbard a second time.
His recommendation, as it turned out, was sparked by another.
Hubbard used to train for football at a facility in Sherwood Park called Playmaker University. One of the coaches there, Jed Roberts, an Ottawa native, played defensive line at Northern Colorado, then 13 seasons in the CFL. He knew Hubbard was a track star, then began watching him dominate Sherwood Park's youth football ranks.
"When he got into high school, I told him, 'I'm going to pump your tires if that's OK with you,' " Roberts said. "I felt like it would be a real shame for a kid like Chuba to fall through the cracks just because he was geographically isolated from mainstream football."
Roberts called one of his former teammates at Northern Colorado, Marty English, who was then an assistant coach at Colorado State, and insisted English take a look. Soon thereafter, Hubbard was sitting in a physics class in February 2016 when a text from then-Colorado State coach Mike Bobo prompted him to excuse himself to call Bobo back from the Bev Facey High cafeteria.
Bobo offered Hubbard his first scholarship, and Hubbard had officially been discovered. An NCAA coach had finally noticed.
Unfortunately for Colorado State, however, Ogbongbemiga caught wind of the offer and started the wildfire that was Hubbard's Power Five recruitment.
"I was hoping he'd stay under the radar," English said, "but that definitely did not happen."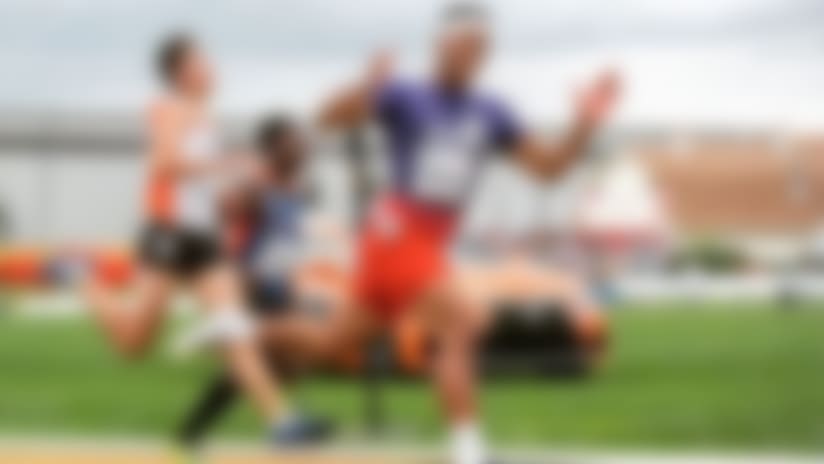 The track where Hubbard first discovered his gift for speed wasn't a track by any legitimate definition. It was, instead, the closest thing to a track that Meadowlark Christian School track coach Corrine Timmer could offer in the snow-covered Alberta winters — a lengthy hallway. The school had a gym, but the hallway, even on a concrete surface, was preferable because it offered a longer straightaway. Hubbard was just 6 when he began training on it, with cones on either end to alert other students not to wander in the path of a prodigy's work. Speed had always attracted the child — he never left the house without a Hot Wheels toy car in his pocket — and the hallway at least served the most basic function of allowing him to test his limits in a full sprint.
"Kids that age don't typically take on a proper running form. The arms flail, balance is off, and their core isn't strong enough to hold nice and firm. But Chuba applied all the technique to his stride. His style became almost perfect," Timmer said. "At a very young age, he would make me think, Now what are we going to work on?"
Timmer launched a track club years later so that Hubbard and the track coach's son, Simon, could benefit from proper facilities. But Hubbard didn't need a real track to flash real potential; hallway training was good enough to qualify him for the Hershey Track and Field North American Finals in Pennsylvania on three different occasions. He medaled every time — twice in the 100 meters and once in the broad jump — and was always popular with friends upon his return, thanks to the free five-pound chocolate bar he'd get from the event's complementary tour of the Hershey chocolate factory.
Hubbard's speed took him a lot further than Pennsylvania. He traveled across Canada and was eventually named the Athletics Alberta Track and Field Athlete of the Year. His track career peaked in 2015 at the IAAF World Youth Championships in Colombia, where he clocked the 10.55, and only a hamstring injury prevented him from a trip to Bydgoszcz, Poland, for the IAAF World Junior Championships.
All that speed translated to football as quickly as Hubbard first took the field. In his first pee-wee game at age 9 for the Sherwood Park Sabrecats, he broke the opening kickoff for a touchdown, took his next touch for a rushing touchdown and broke his third touch, another kickoff return, to the opponent's 5-yard line. Years later at Bev Facey High, opposing defenses were equally helpless. In one game, he had had four carries for 234 yards; in another, 12 for 350. As a junior, he averaged a ridiculous 18.6 yards per carry.
Because the competition was weak, Arroyo saw no value in Hubbard's otherworldly stats. In evaluating tape of Hubbard's play, the Oklahoma State coach saw two things he expected to translate to major college football: his willingness for contact and, of course, his track-proven speed.
"Chuba's tape, you'd see guys have a great angle on him, and he turns on the speed and all the sudden they've got no angle and he's gone," Arroyo said. "So that's when your inner voice creeps in [and says], Who is he playing against? The competition in Canada, it's buyer beware, so as a recruiter, you have that argument with yourself. But when you see a 10.6 multiple times, from national and international track tournaments, those times are as real as it gets, and that translates into a hell of a 40. I saw a kid who wasn't scared of contact, with speed that would play anywhere in the country, and that was enough for me."
Although Arroyo didn't lean on it for evaluation purposes, Hubbard did get to test his speed against American players once while in high school. He was invited to play on a team of Canadian all-stars against teams from other countries in the 2015 International Bowl, which was played in the Dallas Cowboys' AT&T Stadium. When the Canadians clashed with the U.S. team, Hubbard gashed them for 156 yards and three scores on just 12 carries, and won the MVP in a 42-0 win.
His kind of speed travels anywhere.
Hubbard will be a long way from Meadowlark Christian's hallway when he puts his hand down for a 40-yard dash at Oklahoma State's pro day on Thursday. He was never timed at Oklahoma State; when his recruiting class was clocked in June 2017, he was still finishing high school in Canada, which ends its school year later than the U.S. But current Oklahoma State running backs coach John Wozniak points to Baltimore Ravens RB Justice Hill, a former teammate of Hubbard's at OSU, as a solid barometer.
At the 2019 combine, Hill clocked the fastest time of all running backs with a 4.40.
"If that ankle's right," said Wozniak, referring an ankle injury Hubbard played with throughout the 2020 season, "I'm sure he'll go 4.40 or better, because I think Chuba is every bit as fast or faster than [Justice]."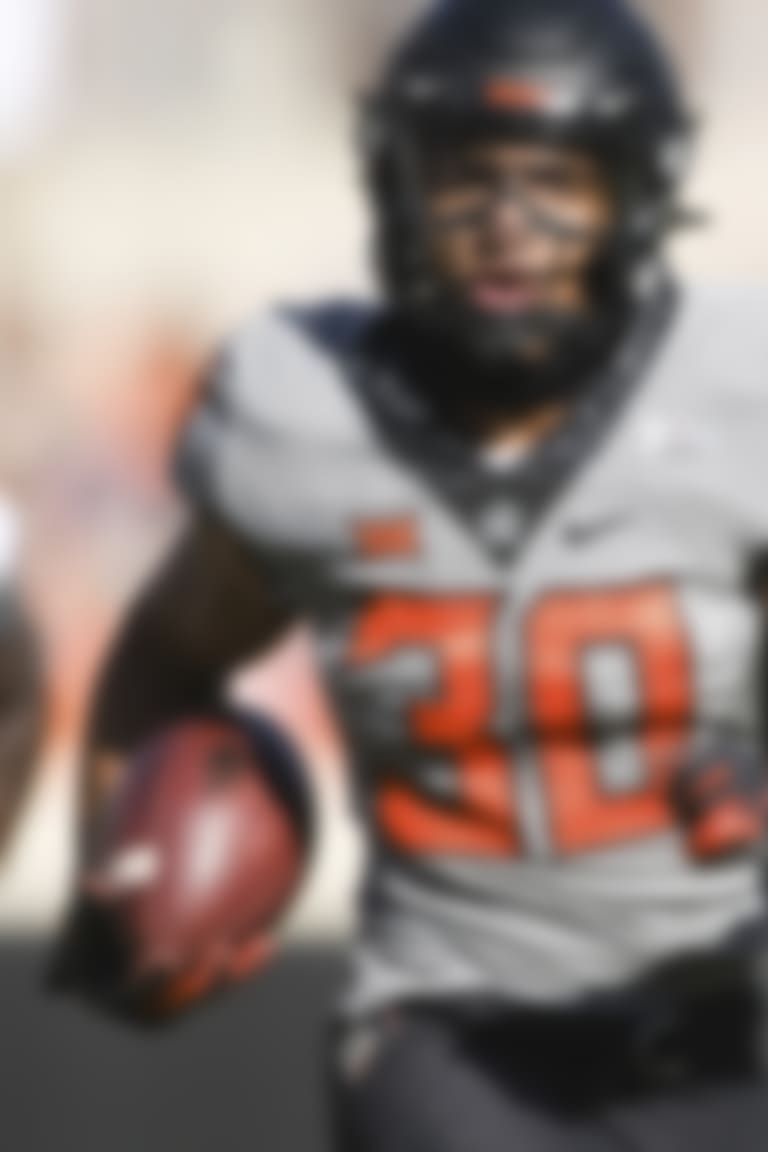 Hubbard had barely unpacked his belongings in Stillwater when the gap between he and his teammates began to show. He was behind everywhere — in the weight room, with the playbook, on the practice field. This was why so many Canadian players finished high school in the U.S., along with getting noticed by recruiters — to close that gap as much as possible before beginning college.
Hubbard arrived at 180 pounds, was completely new to a basic lift for college players — the power clean — and his understanding of the game needed plenty of sharpening. Then there was the stifling Oklahoma heat, another major adjustment from the sub-zero conditions he endured in Sherwood Park Novembers. A redshirt year was badly needed.
"I was terrible my first year. Horrible. Ask anyone," Hubbard said. "I don't think I could power clean 135 (pounds) when I first got there. Now I can do 345 or more."
Wozniak, who was hired to replace Arroyo as the Cowboys running backs coach shortly after Hubbard signed, quickly noticed that Hubbard didn't shy away from contact. Trouble was, he had no idea how to absorb it, much less deliver punishment. He ran with a high-and-tall posture, as he would on a track, rather than with the forward lean needed for collisions. A price was paid.
"He definitely had a long way to go as far as understanding pad level," Wozniak said. "That redshirt year, we put him on scout-team kickoff return at one point, and he'd try to run through there as tall as he could. Someone would pop him in the chest and just flatten him, and I'd say, 'Holy crap, Chuba, you've got to get your pads lower.' "
Almost exactly a year later, he replaced an injured Justice Hill and ran for 104 yards against Big 12 power Oklahoma. A week later, 134 against West Virginia, and the makings of a star were already beginning to show.
The breakout season came in 2019; Hubbard's breakaway speed went on full display as he led the nation in runs of 30-plus yards (15), 40-plus (nine), 50-plus (seven) and in total rushing yards with 2,094. Sometimes just as he crossed the goal line, in a nod to his former sport, he'd lunge his upper body forward — know in track as a "dip" — as if crossing a finish line. But all those long runs didn't just come from Hubbard simply running wide and turning the corner with superior wheels. During that season, Wozniak made a startling discovery.
College programs engage in "self-scouting" each season, whereby coaches break down film of their own team as if they were game-planning for an opponent. Often done during an idle week, they search for tendencies and weaknesses and review analytical data. When Oklahoma State did theirs in 2019, one number caught Wozniak's eye: Hubbard was averaging more than 8 yards per carry on inside-zone plays.
"That just doesn't happen," Wozniak said. "That's double what a good, solid inside run would be. But he's got this burst to get through there and break it. The long speed is great, but the burst between where he takes the ball and the line of scrimmage, that's just as beneficial to him."
Wozniak tells NFL scouts that Hubbard's tape from 2019 is the only tape they need to watch, because his 2020 season isn't at all representative. An ankle injury hampered him for most of the season, serious enough that he spent weekdays in an orthopedic boot and wasn't involved in full-contact practices. Still, he played as many Saturdays as he could — seven games — and managed to average 5.9 yards per carry on a bad ankle.
"A lot of guys would've shut it down to not look bad, but he tried to fight through it to help us win games. Nobody should ever question his toughness or call him 'just a track guy,' " Wozniak said. "I'll always remember that; he put his body on the line for Oklahoma State football."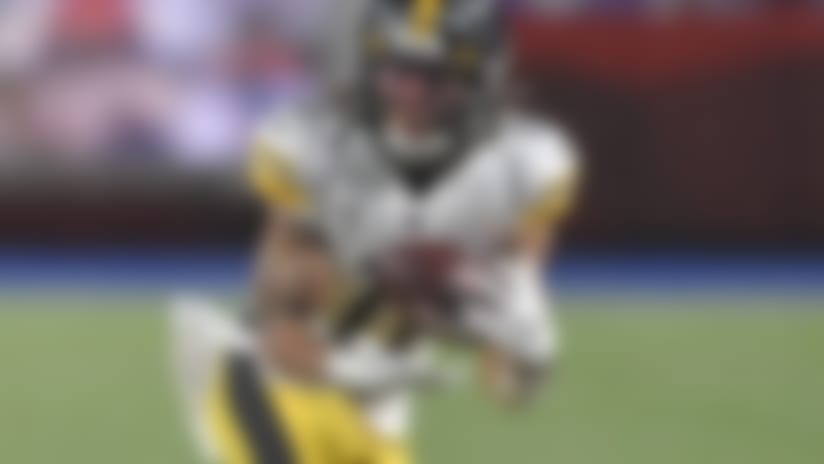 When Ogbongbemiga saved enough money to travel from Calgary to Oklahoma State and participate in the camp that earned him a scholarship offer, he didn't pick Stillwater on a whim. One of his boyhood friends, Miami Dolphins defensive end Emmanuel Ogbah, had recommended him to the Cowboys coaching staff. He considers that endorsement as a critical juncture in his football career.
Hubbard has the same gratefulness for the endorsements he got from Roberts and Ogbongbemiga, and as such, he did all he could to pay it forward. He pushed for the OSU staff to sign Ajou Ajou, a wide receiver from Brooks, Alberta, but he signed with Clemson. He pressed his coaches about offensive lineman Albert Reese, of Edmonton, but he chose Mississippi State.
"There are so many talented players and people look right past them. Every time me and Amen see somebody (from Canada), we always try to push them," Hubbard said. "Sometimes that's all you need. A lot of people get overlooked and never reach their potential."
🇨🇦 All love https://t.co/egxTsG88VV
Truth is, neither Ajou nor Reese needed as much help to get over the border as Hubbard and Ogbongbemiga did; both left Canada and finished high school at Clearwater Academy International with plenty of scholarship offers. Hubbard can name off all sorts of top Canadians he knows who have made the jump, but when asked who arrived straight from Canada, only one — Claypool — comes to his mind.
It would be easy for Hubbard to look down a bit on those who bolted for U.S. high schools, but that's not his position. The way he sees it, any Canadian kid who makes it as an NCAA football player has accomplished something to be admired.
"I respect it both ways," he said.
Follow Chase Goodbread on Twitter.
Source: Read Full Article