The match between the Indigenous All Stars and Maori All Stars has been overshadowed by an argument which has been going on for a long time.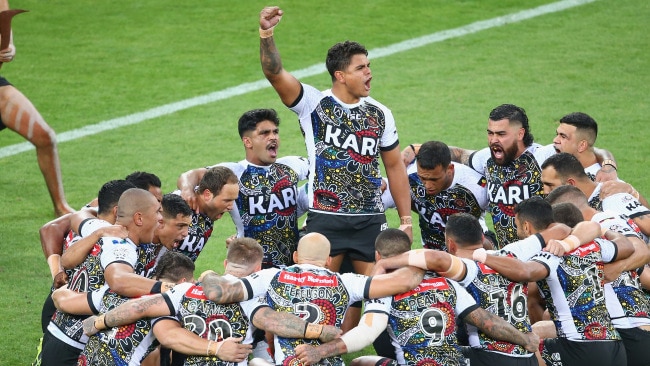 The Indigenous All Stars and Maori All Stars will go head-to-head for the second time, continuing the concept that was launched in 2010.
Eight matches have been held over the years with the NRL All Stars the original opponents before the World All Stars took over in 2016 and 2017, before the Maori All Stars joined in 2019.
The Indigenous All Stars won in 2019 34-14 in Melbourne.
LIVE stream Indigenous All-Stars v Maori Kiwis in the 2020 Harvey Norman NRL All Stars match on KAYO. New to Kayo? Get your 14-day free trial & start streaming instantly >
SCORE
8.10pm: Indigenous All Stars Vs Maori All Stars
Live Updates
All Stars anthem issue 'hijacking' game
Last season, All Stars captain Cody Walker said the current anthem didn't "represent him or his family" and suggested Australia should consider changing it after the anthem furore flared up.
Neither Australia or New Zealand's national anthems will be played at Saturday's NRL All Stars game, with the Maori All Stars confirming God Defend New Zealand will not be played at the match.
The ARL Commission announced earlier this month Advance Australia Fair would not be played at the game on the advice of the game's Indigenous players.
Several members of Indigenous All Stars had indicated they did not want the Australian anthem played as it did not represent them, their families or First Nations culture.
Maori All Stars coach David Kidwell says while he and his players are fiercely proud of New Zealand's anthem – which includes both Maori and English lyrics – they were also aware of the concerns of their opponents.
"We're proud of our anthem. Being bilingual, it's got the Te Reo in there, but on this occasion and this event we support our Indigenous brothers," Kidwell told AAP.
"Our show of unity, with them, is we've decided not to play our anthem as well and that's a show of support but any time we get to sing our anthem we're very proud of it."
The lack of anthems will bring an increased focus on the pre-game war cries of the two teams.
Kidwell revealed he had arranged for a bespoke haka to be arranged for his team, which will be performed before the match.
But in The Daily Telegraph, Paul Kent has written the removal of the anthem makes the game "no longer be a celebration, but a protest match" and said the players were "guilty of hijacking Campbell's intent for their own gain".
He admits the NRL are complicit as well and should not be making political stances, arguing it's not the competition's responsibility to drive change.
Similarly, Zero Tackle's Adam Hayward wrote in a story titled "NRL All Stars a cause for celebration, not polarisation".
He argues: "There's nothing wrong with the All Stars event being used to raise concerns with the national anthem and should be part of a national conversation, but let's not allow differences of opinions on the subject spoil what will be two great games of rugby league."
Last year, radio host Mark Levy said he didn't decry the players for their opinion but admitted frustration with their decision to make an event celebrating Indigenous culture into platform for a political issue.
"Am I disappointed the All-Stars' match was hijacked by the debate over changing the anthem? Yes I am," Levy said after the last All Star match.
"I'd much prefer if those conversations are left out of sport but I understand why they did it.
"I think it's important to put everything into perspective for a moment, the Indigenous players didn't stay in the dressing room, they didn't sit down during the anthem but they simply chose not to mouth the words, given it's something they don't agree with."
It seems with or without the anthem, the discussion will remain a hot button issue."
– with AAP
Comments
Add your comment to this story
To join the conversation, please Log in. Don't have an account? Sign up
Join the conversation, you are commenting as Logout
Source: Read Full Article