Geelong veteran Mitch Duncan has credited a "blank canvas" approach as a major reason why the Cats have improved this season, and are one game away from a grand final.
The disappointment of last year's losing preliminary final, and the winds of change which arrived under new chief executive Steve Hocking, prompting fresh assistants for coach Chris Scott, also led to a rethink of the game plan and how players were used.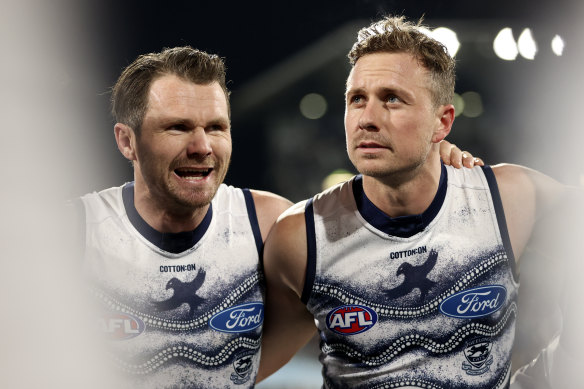 Patrick Dangerfield and Mitch Duncan have key roles to play against the Brisbane Lions on Friday.Credit:AFL Photos
Whether it be veterans, including Joel Selwood or Patrick Dangerfield, or star recruit Jeremy Cameron, or redefining Tom Atkins from a forward and defender into a starting midfielder, the need for greater variety, or "licence" as Cameron has put it, has seen the Cats have greater positional flexibility.
This included the sweet-kicking Duncan, the 256-gamer who in the qualifying final against Collingwood was used at half-back, through the midfield and then sent to half-forward when the contest was tight.
"Probably from day one of this pre-season, we had a lot of change, from coaching and staff and players, bit of a blank canvas, like Scotty said," Duncan said.
"We kind of changed the way we played, which was refreshing as well. There have been a lot of factors which have refreshed the group, probably a big part of why we are here at the minute. But still, you have to be able to implement and execute what is in front of you."
This even included Dangerfield beginning on the bench for all four quarters against the Magpies, and Selwood the opening three. The veteran pair has been the heartbeat of the Cats for years, but Mark Blicavs' versatility, and the development of Atkins, has added even more depth through the midfield.
"We all need them playing at their best, whether that's starting on the bench, the start of the game, or after quarters. We want to keep power and speed on the game. For them, that's just the role they played," Duncan said.
"It's been a bit of a rotation policy throughout the whole year, so not sure if we will see it again. It's great because it gives so much opportunity to other people as well."
That opportunity has been pivotal in the rise of the likes of key defender Sam De Koning, the versatile Zach Guthrie, midfielder Holmes who has become an important link man and even recycled small forward Tyson Stengle, who has been so impressive this year that he joined Tom Hawkins and Cameron in the All-Australian forward line.
"It creates opportunity, puts a bit more emphasis on other people delivering, which they have, and it just grows as a group. I think those guys [Selwood, Dangerfield] aren't going to be around forever," Duncan said.
"We do have to start giving other people opportunities – Zac Guthrie is one, Sam De Koning, Tom Atkins goes into the middle, Tyson Stengle, Max Holmes – it's just great growth for the group, as well as a few experienced heads. It's really exciting for this year but, even going forward, it's even more exciting there, too."
Duncan has been delighted by what Stengle, the former Tiger and Crow, has brought to the group.
"We would like to think we have helped him but he has helped us as well. He is quiet but very funny, quick-witted, someone whose company I really enjoy," he said.
While the future is exciting, the prospect of the ultimate success this season is within grasp. Remarkably, this is the Cats' 12th preliminary final in 16 seasons, and their fourth straight.
Duncan, who played in the 2011 premiership, beginning the match as a substitute, and the losing 2020 grand final, is not defined by on-field events. As a father of three, he and wife Demi keep things in perspective. But Duncan knows a chance for something special awaits.
"Back then [in 2011], you probably just take it for granted a little bit. You are so young, all you want to do is play footy. I have said that on numerous occasions," he said.
"The meaning of probably winning another one would be a whole lot more, just how hard they are to come by. The people that have come along for the journey and the stories that can evolve from it, that always drives you to get there.
"It's not necessarily going to define me as a person, to be honest, I leave that to my family and friends. In saying that, it's a nice cherry on top."
Keep up to date with the best AFL coverage in the country. Sign up for the Real Footy newsletter.
Most Viewed in Sport
From our partners
Source: Read Full Article