Sleek and modern
Not everyone is going for the full black-tie glam. A lot of stylists I spoke to during the week were going for something a little more minimalist, believing 2020 wasn't the year to go too "extra".
Case in point: Bella Beischer, partner of Melbourne's Christian Petracca, is attending in Brisbane, and wearing a custom dress by Melbourn-based Effie Kats, styled by Suzy Eskander.
A first taste of fashion
As mentioned, there's only a limited number of partners able to attend functions around the country, in line with COVID-restrictions in each state.
And while there are no partners attending in Melbourne, we are getting some first glimpses of gowns in Brisbane and Perth, and we already like what we see. Gosh, it makes such a nice change from looking at tracksuit pants for seven months.
Julie Neale, wife of Brownlow favourite Lachie Neale, chose a sparkly dress with a high split by One Day Bridal. Based on what we have seen at this early stage, neutrals are very on point.
Jake Niall's thoughts
Check in with our top scribe and chief AFL writer – in Queensland.
Dustin Martin.Credit:Getty Images
What else can you expect?
In a shortened AFL season, Neale could poll somewhere in the range of 25 votes from 17 matches. That's good going. We've done some solid number crunching and there's very few scenarios where the 27-year-old doesn't win.
You can also check the round-by-round results as you watch the count by getting our DOWNLOADABLE form guide. We chart the seasons of some of the leading chances, from Neale to Port Adelaide veteran Travis Boak, to this year's potential bolters Christian Petracca and Jack Steele.
Christian Petracca (left).Credit:Getty Images
Love it or not, we're all a bit obsessed
From the "DIY" days of buying a dress from the local shops, to the country's biggest red carpet – AFL's annual best-and-fairest award has been on a journey.
Given the unusual circumstances this year, we thought it was appropriate to look back at how the Brownlow red carpet became Australia's fashion event of the year. And boy, did we have fun doing it.
From Tania Buckley's "g-string" dress in 2001, to the arrival of Bec Judd on the scene in 2004, and a "friendlier" Brownlow in more recent years, some of the best moments have happened before the count has even begun.
Read more about why we're all a little Brownlow red carpet obsessed here.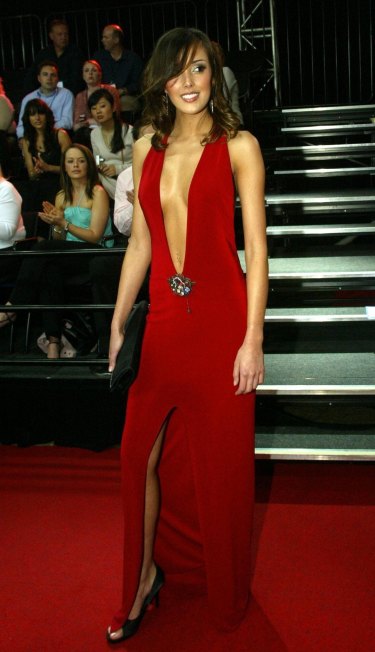 The dress that changed it all … Rebecca Judd (nee Twigley) at the 2004 Brownlow.Credit:Vince Caligiuri
Wither the red carpet?
On the Monday night before the Grand Final, I'm usually shivering (as it's normally September) on the red carpet at Crown. Tonight, I'm at home, watching the (limited) fashions as they roll in from the seven broadcast sites around the country, and on social media.
While there is no official red carpet at any of the events, and partners are only permitted at some of those, there is still sure to be plenty of glamour, even if it's pared back a bit than usual.
Many of the partners, especially those in the Gold Coast hub, have had to improvise this year, using remote stylists and getting make-up tutorials over Zoom.
Read more about the preparations for his historic Brownlow "red carpet" here.
Jade Kisnorbo shows Mardi Dangerfield how to apply her make-up via Zoom.Credit:Justin McManus
Hello footy fans
It's October. It's a Sunday evening. The Caulfield Cup was run this weekend. And the Brownlow medal count will take place tonight. Make sense? Well, no. But that's 2020.
It's a different Brownlow count this year – a virtual event in fact. But expect plenty of the regular glamour on the AFL's night of nights. Also, as usual in recent times, we have a hot pre-count favourite in Brisbane Lions midfielder Lachie Neale.
So sit back and enjoy the 2020 Brownlow medal count.
Will it be Lachie Neale's night?Credit:Getty Images
Most Viewed in Sport
Source: Read Full Article