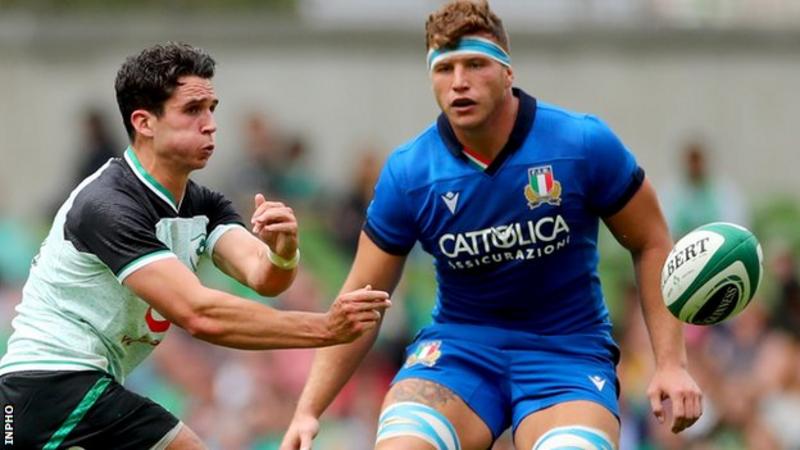 Six Nations organisers are "monitoring very closely" the Coronavirus situation, with games under threat by the spread of the virus in Italy.
Seven people have died in Italy and 229 tested positive for the virus, while 11 towns in the north are in lockdown.
Italy's men and women's teams play in Ireland in two weeks before hosting England in the final round.
Scotland Women's match in Italy on Sunday was cancelled and is yet to be rearranged.
Coronavirus' impact on sport – timeline
Coronavirus: Britons returning from northern Italy told to self-isolate
"Six Nations is monitoring this situation very closely and is in regular contact with the FIR (Italian Rugby Federation) and all other Unions and Federations as well as the relevant local authorities and health organisations," a statement from the organisers said.
An FIR spokesperson said that if government advice changes they would consider moving the women's team's next training camp which is scheduled to take place in Parma, just south of the at-risk Lombardy and Veneto regions.
"All measures adopted by the Italian government are due to expire on 1 March," an Italian Rugby Federation (FIR) spokesperson said.
"Until then, FIR will stick to those measures while keeping relevant stakeholders involved."
Two Pro14 matches scheduled for this weekend have been called off – Ospreys against Zebre in Parma and Ulster's trip to Treviso to face Benetton.
Ireland men are due to take on Italy at Dublin's Aviva Stadium on Saturday 7 March, while the women's match is on the following day at nearby Donnybrook.
In the final round of Six Nations fixtures, Italy's men host England on Saturday 14 March and the women are at home to England on 15 March.
Ireland's health minister Simon Harris said that "big decisions" will have to be made in the interest of public safety, adding that he was thinking particularly of the Ireland-Italy rugby match.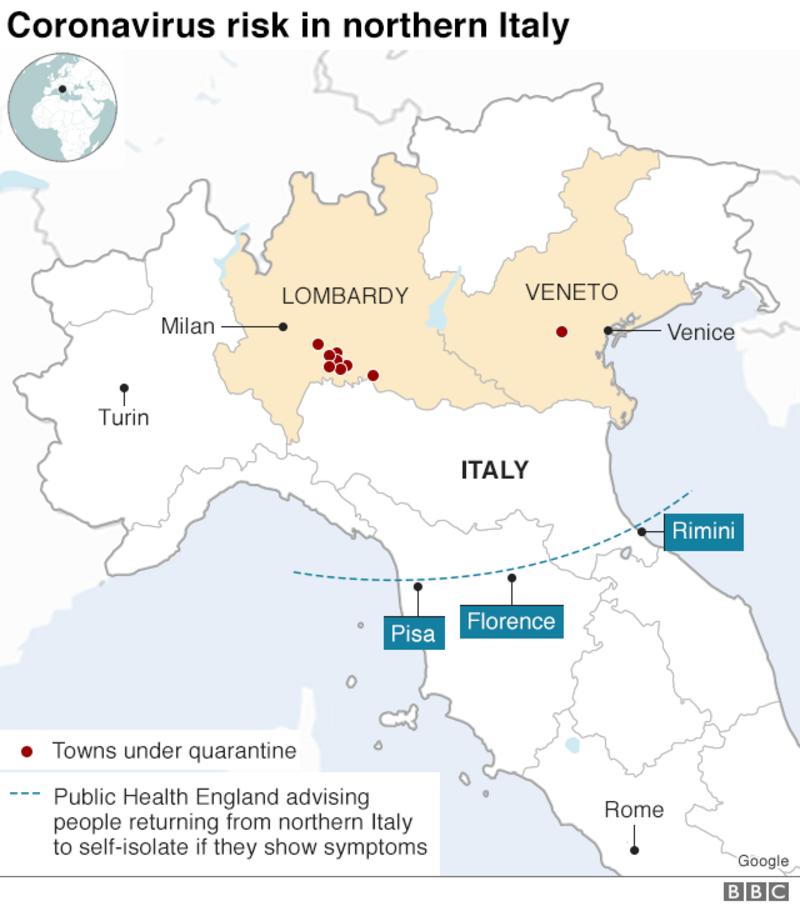 What are the symptoms?
The main signs of infection are fever (high temperature) and a cough as well as shortness of breath and breathing difficulties.
What should I do?
Frequent handwashing with soap or gel, avoiding close contact with people who are ill and not touching your eyes, nose and mouth with unwashed hands can help cut the risk of infection.
Catching coughs and sneezes in a tissue, binning it and washing your hands can minimise the risk of spreading disease.
What is coronavirus and what are the symptoms?
What does 'pandemic' mean?
A pandemic is the worldwide spread of a new disease
The H1N1 (swine flu) outbreak, which killed hundreds of thousands of people, was declared a pandemic by the WHO in 2009
The WHO no longer formally labels an outbreak of disease a "pandemic" but says the term may be used "colloquially"
Its advice to countries – to limit the infections while preparing for wider spread – remains the same
Source: Read Full Article