When Collingwood star Jordan De Goey was sent to train on his own during his post-New York banishment, his former midfield coach Garry Hocking gave him a call.
They had always got on well and kept in contact with texts or calls so Hocking – "Buddha" – reached out to invite De Goey down to Leopold, his club in the Geelong Football League, to have a run with the players. De Goey was keen.
"I just thought he needed a connection," Hocking said.
Tough to tackle: Jordan De Goey.Credit:AFL Photos
The Leopold players didn't know whether to tackle him or not. A few tried and found it was not so easy.
"It was great for the boys. For a local footy club to have Jordan De Goey, and most of the boys down here are Collingwood anyway, they didn't know whether to tackle him or whatever, so he was able to run around and do what he liked.
"A couple of guys did tackle him, but it was a bit like in America – don't hit the quarterback, you hit the quarterback you get sacked. I wasn't going to be that harsh – we need the players – but they loved having him down there."
At Leopold, De Goey also looked around and saw the utes pulling up and tradies rolling out after a day on the tools. Or the bloke racing over the hill having driven from work in Ballarat to make training on time, knowing that after training finishes he has to get home, cook dinner, get to bed to be up to do it all again. Hocking felt De Goey understood that AFL players weren't the only ones who made sacrifices. He also saw the game as it is at the local level, stripped bare, and the love the players had for it.
"The session was good for us, good for him," Hocking said. "We caught up for tea after and just talked about lying low, playing good footy and letting your footy do the talking and just keep trying to be a good person. And that's what he's done."
The Leopold players might have learnt something from De Goey. They finished ninth last year but are playing in the grand final this Saturday.
De Goey is also now playing good footy. He's leading the coaches' voting for the finals – which is a bit of a skewed vote count, given they've played two finals, and others have only played one – but he is playing the sort of football we should expect of a player of his ability.
That has not always been what De Goey has managed to do. When he has strung good footy together, he'd often get injured. Or he'd be playing forward and get restless to get his hands on the ball. Then when he was on the ball, he'd be restless to kick a goal.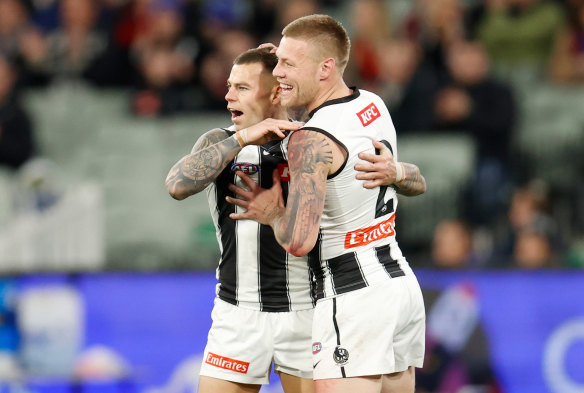 Jamie Elliott celebrates a goal with Jordan De Goey.Credit:AFL Photos
This year, since his re-integration into the team and the mini pre-season he did, which made him stronger and fitter to play midfield, he has been used almost exclusively on the ball. He looks to be playing with understanding of what he wants to do. He is playing happy, if there is such a thing.
"I have always been in his corner, I don't condone what he has done previously overseas and that sort of stuff but from a personal point of view and his footy he just loves playing the game and he's a good, normal person, he loves having a laugh and a kick around," Hocking said.
"His footy at the moment is going really well, he is playing in a really good side. I think they are giving him the footy a bit more because he is so damaging with it.
"He respects [Scott] Pendlebury and that is the best role model you can have at a footy club. And maybe 'Fly' [coach Craig McRae] coming in and having a bit of fun and allowing him to play the way that suits Jordy and suits the other guys as well probably helps not just Jordy, but a lot of the other boys get the best out of themselves too.
Garry Hocking (centre) pictured at Pies training in 2018.Credit:Getty Images
"Jordy will kick two or three up forward, but I think what they have worked out is he will influence a lot more goals with him through the midfield because his ability to see what's ahead is rare.
"I like the stuff he is doing defensively now, his ability to run back and defend and tackle and hunt the opposition. And then he has this power, he is mature now in his body and he is starting to work out what he can and can't do and I like the bit that he is tipping in more defensively. He is starting to have a well-rounded game. Some of his stuff the other night was as good defensively as offensively.
"The big thing in coaching now is not just the Xs and Os but being able to get in your players' heads and allow them to play with confidence and the way they want to play or been brought up to play. The really good coaches don't suppress the talent.
"I think Jordy has always understood how good he could be but hasn't wanted to push himself to do that, but now is starting to do everything behind the scenes.
"What you do in the shade shines in the light. I'm a big believer you do all the little things and they add up. He is working hard on the little things and doing more stuff in the shade now and he is shining in the lights, isn't he?"
Keep up to date with the best AFL coverage in the country. Sign up for the Real Footy newsletter.
Most Viewed in Sport
From our partners
Source: Read Full Article