Western Sydney Wanderers' main supporters group, the Red and Black Bloc, has refused to apologise for a homophobic social media post which used this week's Mardi Gras celebrations as a taunt directed at Sydney FC fans ahead of Friday night's A-League derby.
The incendiary post, which was made on Wednesday afternoon, said the RBB's intended "takeover" of Sydney's home ground, Jubilee Stadium in Kogarah, would be made easier because Mardi Gras.
The Red and Black Bloc have brought controversy upon themselves yet again with a homophobic social media post.Credit:Getty
"In what would be a busy week for most ESFC supporters with Mardi Gras to attend, our takeover of Kogarah is imminent," the RBB's post said.
The Wanderers swiftly condemned the comments and asked the RBB to take the post down, which it did late on Wednesday night. But the controversial group stopped well short of issuing an apology for its latest homophobic incident, saying it would have been "misplaced".
"As advised by the club, we have removed our previous post as it may have unintentionally been offensive," the RBB said in a new post on Thursday.
"Would like to wish ESFC [the group's nickname for Sydney FC] good luck for our upcoming derby on Friday evening. We do feel though that an apology would be misplaced, as each and every person is entitled to celebrate and practice [sic] their sexuality as they deem appropriate."
It is not the RBB's first brush with homophobia. In 2017, the group unveiled a banner depicting former Sydney FC coach Graham Arnold engaged in a sex act, which led to 14 RBB members being banned by the club.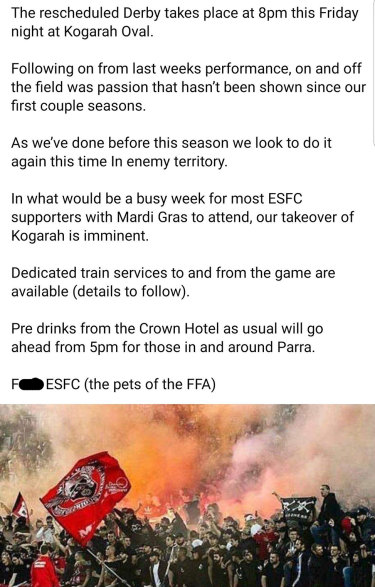 A since-deleted post by the RBB, fan group of the Western Sydney Wanderers.Credit:Facebook
"The comments made on social media channels by those purporting to represent the RBB are unacceptable and do not represent the wider views of those in the RBB, or those 18,000 members who support the club in general," a club statement said.
"The club condemns the comment without qualification. Discrimination in any form is unacceptable. We are and always will be a fully inclusive football club. The club immediately sought removal of those posts on all channels."
Source: Read Full Article