Darwin Nunez, Mohamed Salaha and Dominik Szoboszlai high five

Sign up to Miguel Delaney's Reading the Game newsletter sent straight to your inbox for free
Sign up to Miguel's Delaney's free weekly newsletter
Thanks for signing up to the
Football email
The league table is taking on an eerily familiar look for Liverpool. The identity of the one team above them is typical, the gap a bittersweet reminder of brushes with greatness, of the unique achievement of taking first 97 and then 92 points in Premier League seasons without becoming champions in either.
Manchester City are first, Liverpool second. There is one point between them, just as there was in the 2018-19 season and again in the 2021-22 campaign. Liverpool 2.0, Jurgen Klopp's new-look side, find themselves in the precise position their predecessors twice finished. Perhaps they are fated to forever be on City's shoulder, the Jan Ullrich to Pep Guardiola's Lance Armstrong, the closest challengers to the serial champions.
But victory at home to Brentford means they have fashioned another top-of-the-table showdown; the Etihad Stadium will host the top two on 25 November. It feels an early-season achievement for a revamped side. Their initial aim was to return to the top four, not title contention; beat City, though, and they will be top. Liverpool may be ahead of schedule. "It's possible," Klopp accepted. "I didn't think about it but it feels good. It is only November. But it's really important we have the same points as other teams."
In itself, it marks a difference from a year ago. After a dozen games then, Liverpool were 13 points behind City. As they have procured 11 points from losing positions already, there could be a similar gulf now. Klopp has found much to enjoy from a team in transition, the unknown quantity who may assume the recognisable role of City's major rivals, their powers of recovery offering a metaphor for a broader project.
"We have to keep going with all the other teams until maybe March or April and if you are still there, we can start talking," Klopp reflected. It may be too easy to talk of a title decider, then, but he has proved that his teams can sustain form from winter into spring. "Until then, fight your way through the most difficult league in the world and be ready on Thursday and on Sunday and Thursday."
That readiness has been tested. "We didn't play perfect football yet, not even close. But we fight our way through in moments and it is all fine," Klopp said.
Liverpool have conceded first in five league games and lost none of them. They have had four red cards, three of which Klopp believes were wrong. They lost their defensive midfield in the summer and had to rebuild an entire department of the team. But their only defeat came from an own goal in the 96th minute for their nine remaining men at Tottenham. Perhaps it was a sign of standards Klopp's best teams have set that his verdict on Liverpool's opening 12 games concentrated on the setbacks.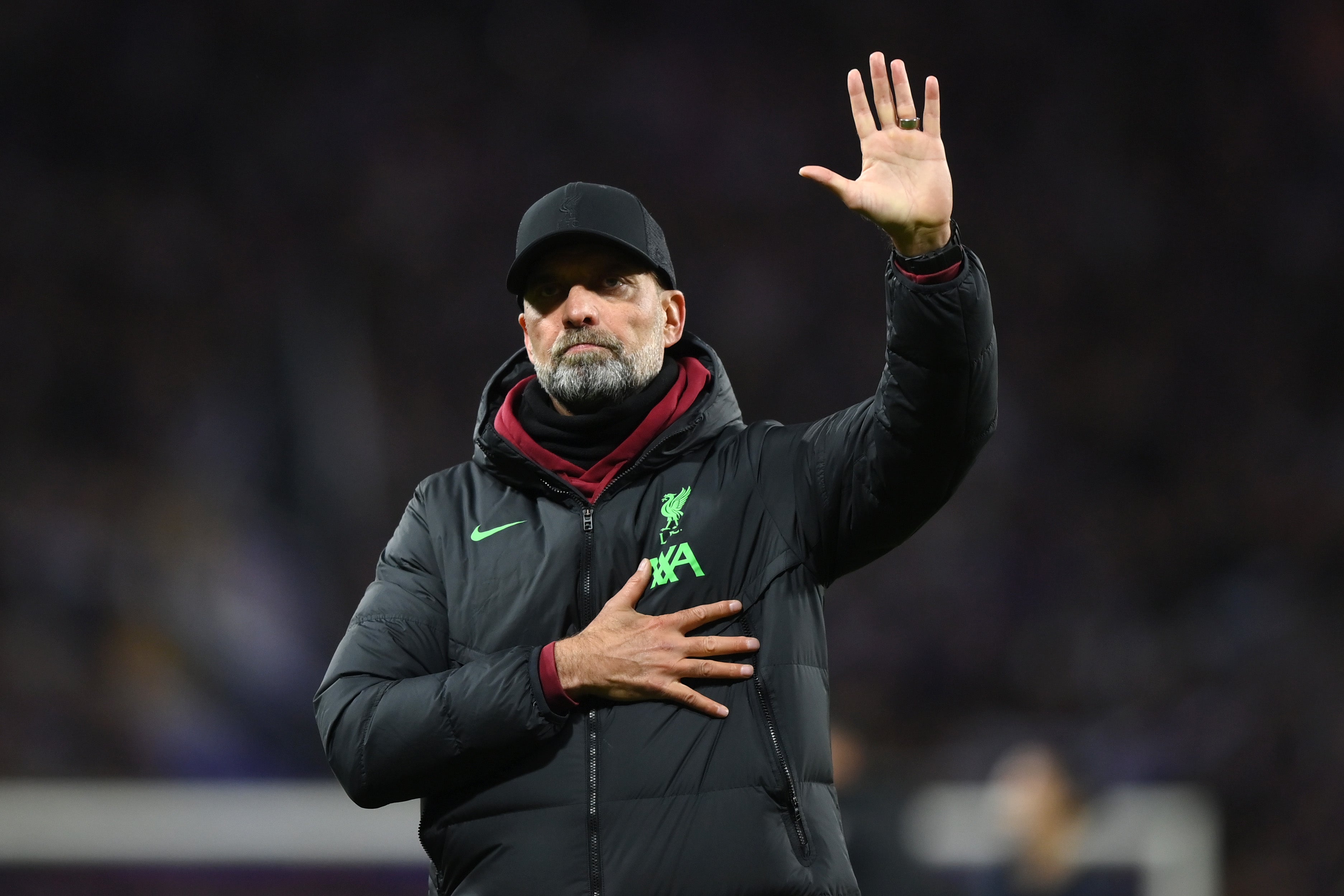 Jurgen Klopp salutes the Liverpool fans
"Football is strange," he said. "If you would have asked me three days [ago, after losing against Toulouse] just about the feeling, not about what I know, I am not sure I would talk about the start. A point at Luton didn't feel great, Tottenham, in the circumstances, obviously didn't feel great and I don't know [about] the other games."
Perhaps they can be divided into two fairly obvious categories: home and away. Liverpool have an extraordinary record at Anfield under Klopp, with one loss in their last 48 home league games and just one in front of a crowd in six-and-a-half years. Now they have six wins from six, albeit with the caveat that only one of this season's victims are in the top eight. Get as close to the maximum of 57 points at home – and they mustered 53 in 18/19 and 55 in their title-winning campaign of 19/20 – and it would underpin a title tilt.
Their fixture list has been tougher on the road – and will get harder again at the Etihad – and dropping nine points indicates such games could prove their undoing. But the fight Klopp referenced and cherishes has been evident away from home. It may be where Liverpool's most glaring shortcoming has threatened to be exposed: the absence of a specialist nullifier at the base of the midfield. They have the joint best defensive record, but it owes much to Alisson; only eight teams have benefited from more saves. This team is less solid than Klopp's greatest side.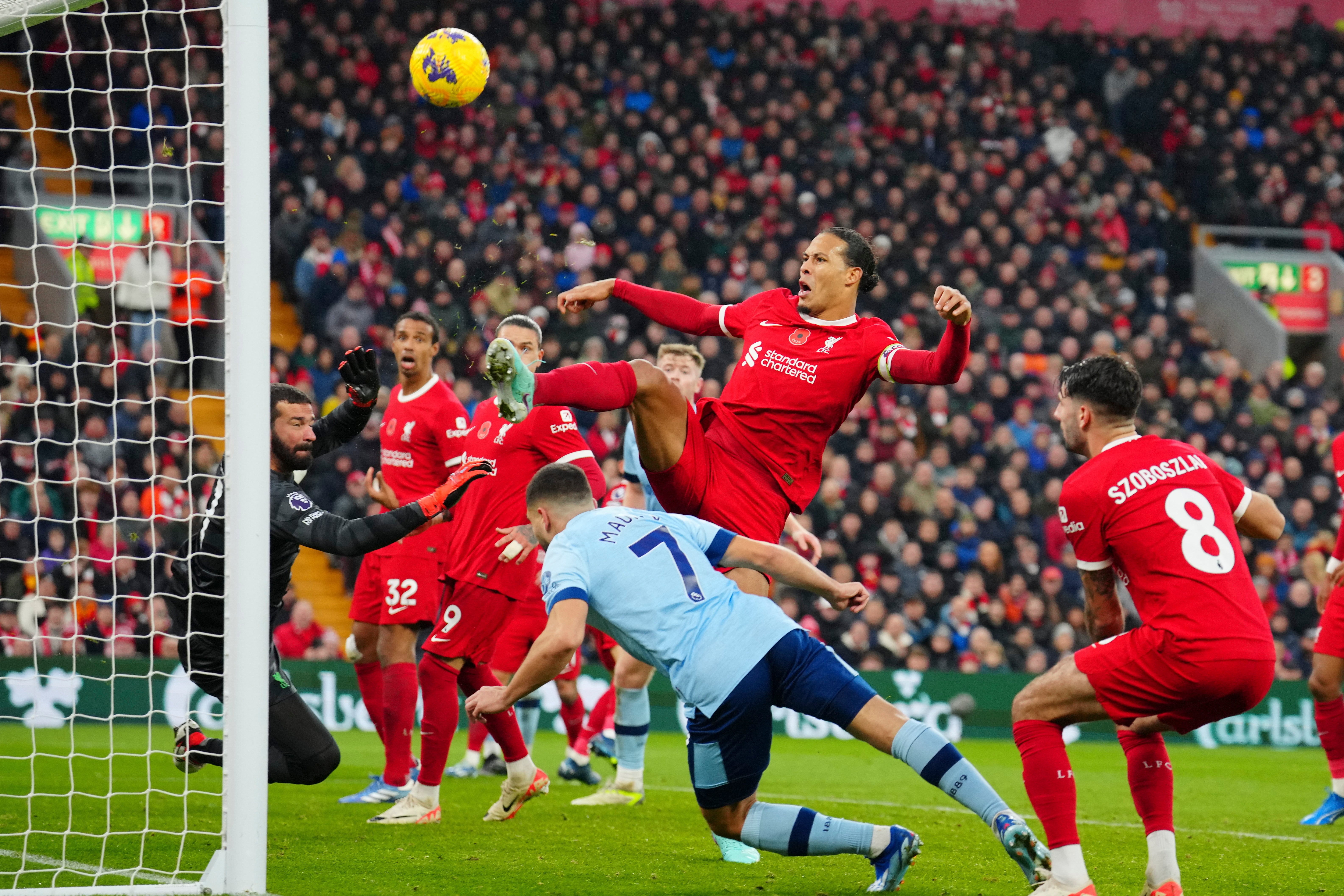 Virgil van Dijk, top, and goalkeeper Alisson block a header by Neal Maupay
But, as Brentford were dismissed 3-0, Virgil van Dijk again offered signs he is back to his commanding best. In Trent Alexander-Arnold, Liverpool have – at least as long as Kevin De Bruyne is sidelined – the outstanding passer in the Premier League. Their attack is sufficiently menacing that no one has had more shots. It is partly a product of Darwin Nunez's inimitable threat, but also of Mohamed Salah's continued brilliance.
He has 10 goals and four assists already and a generous tribute from an impartial observer, the beaten Brentford manager, suggested the Egyptian could be decisive. "Off the top of my head, he is the best player in the league," Thomas Frank said. "What a level. He must be one of the best offensive players in the world. Not top 10, top three."
All of which gives Liverpool a chance. So does their record against City: famously, no manager has beaten Guardiola more than Klopp and it seems impossible to dethrone the champions without defeating them at least once.
And if the players change in these summit clashes, there will be the same sights on the touchlines. Guardiola and Klopp, separated by a few yards and a solitary point once more. A German thinker of a rather earlier era than Klopp, Karl Marx, argued that history repeated itself first as tragedy and then as farce. For Klopp and Guardiola, however, it may be repeating itself for a third time in an epic duel.
Source: Read Full Article