Perhaps he's glad he won't be first, but he will certainly be expected to be loudest, or most capable of making himself heard when the inevitable questions come his way this evening.
Jurgen Klopp leads his Liverpool side into a game against Leeds United later on Monday, a match which should in the accepted nature of the Premier League be a vital fixture – but which would be largely irrelevant if his club, and 11 others so far, get their way.
The Reds, champions less than a year ago, now face a real fight to finish in the top four after an injury-riddled term. Squeezing into those positions in the final weeks, amid challenges and adversity and without key players, would be a subjectively strong accomplishment for the current squad and the manager.
That's what makes the trip to Elland Road worthwhile, important and eagerly anticipated: the potential reward against the threat of missing out on the cash and the potential glory of the Champions League. The Super League plans remove that risk, and with it remove any point in Liverpool's players turning up and putting in a big performance on Monday night.
So what will Klopp say about it? What should he say about it?
Ole Gunnar Solskjaer was asked his thoughts straight after Manchester United's win over Burnley, but while his "no comment" was largely a cop-out, it was also understandable because he had been focused on a match and, if he didn't have all the details passed to him beforehand, he wouldn't have had time to formulate much in the way of opinions.
Thomas Tuchel will be asked about it in a pre-match press conference, but he has only been at Chelsea a few months. He isn't usually afraid to ruffle club feathers with his comments, but this is a particularly big topic and particularly early in his tenure. He'll also be alongside a club press officer who could well be instructed to avoid, dismiss (or simply mute, via Zoom) any questions on the topic.
Klopp, then, outspoken at times, committed to his own set of values and a long-term beneficiary of the relationship with club supporters to whom he has brought league and Continental success, will get both the questions and the expectations, possibly before and very definitely after the game against Leeds.
Independent Football Newsletter
Get the latest football headlines direct to your inbox twice a week
Read our privacy notice
Independent Football Newsletter
Get the latest football headlines direct to your inbox twice a week
Read our privacy notice
His past comments on the subject indicate he would be utterly against such a move.
"I hope there will never be this Super League," he told Kicker in 2019. "With the way the Champions League is now running, football has a really great product. Also with the Europa League.
"For me, the Champions League is the Super League in which [you] don't always have to play the same teams.
"I also don't feel like my club has to be seeded. Of course, it's economically important, but why should we create a betting system where Liverpool can play against Real Madrid for ten years in a row? Who wants to see this every year?"
Well, his bosses, apparently.
Klopp will be asked how the decision affects not just his team, but his managerial ethos, his relationship with the club and perhaps if it will lead him to consider his own future. Liverpool might not like some of the answers their manager gives, but clubs can't keep everyone quiet about it and players haven't yet had the chance to speak their minds on the matter, either.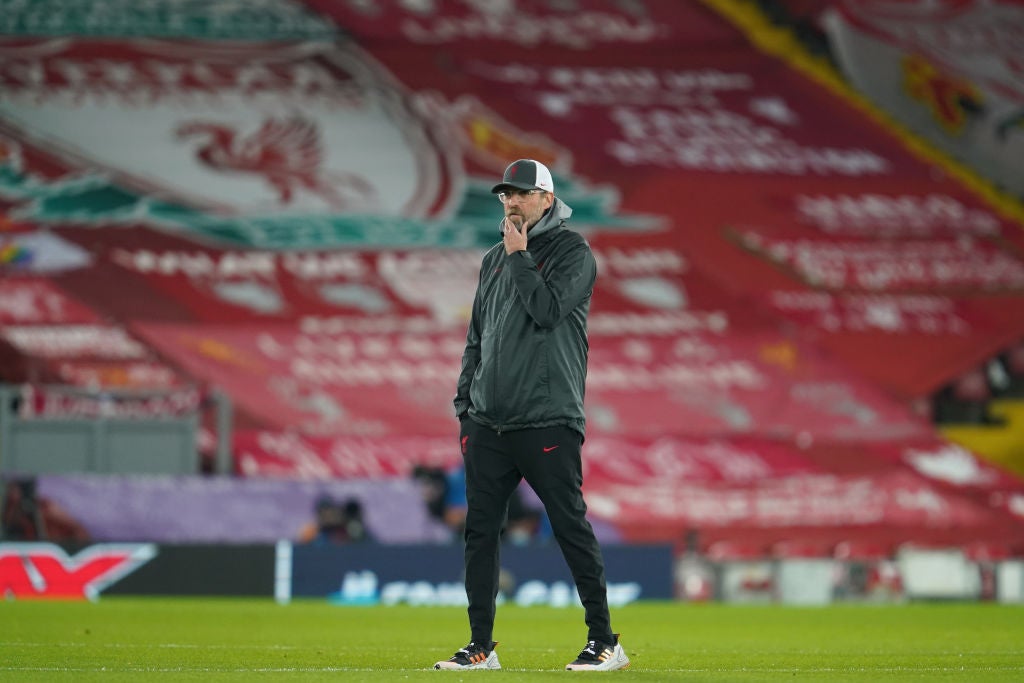 No consultation with fans, no threat of failure, no problem for the big clubs – but those flags behind Klopp will be removed soon as a result
It's worth noting that Klopp has, like everybody else, changed his mind on significant matters before. There was the infamous comment about not wanting to spend huge volumes of cash, for example, before the Reds did exactly that to sign several players which propelled them from top-four chasers to title-winners.
This feels different, though. This is a fundamental change to the sport, to the set-up of what a club – the club he leads – works and fights for on a day-to-day basis.
Klopp has declared previously how taking over the biggest club with the most money and the easiest route to glory doesn't appeal to him, that he finds value and worth in team-building and challenging the status quo.
Liverpool, it might be argued, are one of the clubs which could be persuaded – or forced, shamed or any other method – to backtrack. The big bosses are not, initially at least, named as chairmen or vice on the Super League's opening statement. Supporters have already made their feelings clear, with banners and flags covering the Kop set to be removed in protest.
The fanbase has also protested, loudly and effectively, against decisions that are not for the betterment of all in the past.
But much chance of even that happening could be minimal if the figurehead, who so many of those supporters admire, does not voice his opposition – or at the very least his dismay, uncertainty or non-approval – to the idea of breaking ranks and wrapping a protective cash-filled blanket around his club.
The questions Klopp faces tonight have to be the right ones, and his answers to them might draw the first lines of battle.
Source: Read Full Article