It has been a long and arduous journey to get there, but Riyad Mahrez is now primed to lift the gloom around Manchester City by spearheading an assault on an unsuspecting Real Madrid.
When you think of Manchester City and where they can hurt you, the usual suspects come to mind. There is the club's all-time top goalscorer Sergio Aguero still leading the attack with as much potency as ever. What about the dynamism of the effervescent Raheem Sterling? The assist-making juggernaut that is Kevin De Bruyne is showing no sign of slowing down, while 'El Mago' David Silva still has fans going weak at the knees with his sublime touch.
City's Champions League last-16 opponents Real Madrid will know all too well where City's main threat comes from, but their defence, which is now one of the most impenetrable in Europe, will have to be prepared for an in-form City slicker who has toiled to finally be content in his footballing environment.
Download the new Independent Premium app
Sharing the full story, not just the headlines
The journey to this point has not been easy for Riyad Mahrez. Having been named PFA Player of the Year as Leicester completed the most remarkable of Premier League fairy tales in 2016, there were numerous transfer requests and a 10-day disappearance before finally, two years after lifting the title with Leicester, Mahrez got his move.
Dangling from his mantlepiece at home was another Premier League winner's medal at the end of his first season in Manchester. Objective complete? Not really, as Mahrez played a only bit-part role in the champions' relentless title defence, despite being the club's marquee signing that summer.
Usurping Bernardo Silva was proving impossible, while Sterling simply could not stop scoring. Mahrez, it seemed, was to be just another expensive, dispensable City asset.
The Algerian could have easily sat on his inflated contract and picked up more medals from minimal effort, but to Mahrez's credit, he has taken his game to another level, and currently is as big a threat as anyone, De Bruyne aside, in the City lineup. Perfect timing ahead of the biggest game of City's season.
The results this campaign have been startling. Only De Bruyne and Trent Alexander-Arnold have more Premier League assists than Mahrez, who has set up one more goal than Liverpool's next most creative force – Roberto Firmino – despite having played almost 13 and a half hours fewer than the Brazilian.
These assist have not come from lumping crosses into the box – Mahrez has completed just three successful crosses all season – but from more intelligent, more technical through passes, just like the decisive move that enabled City to get the better of Mahrez's former club Leicester on Saturday.
In the face of a cacophony of boos upon his every touch at the King Power – who'd have thought saying his final two seasons at the club were 'lost years' would be taken so badly by the Foxes faithful – Mahrez kept coming.
The move was much the same, cutting onto his left before firing for goal or trying to pick a gap. There is very much a hint of the Arjen Robben about Mahrez's game – you know what is coming, but often defenders are powerless to stop it.
After the week City had had, Pep Guardiola must have thought this is what Armageddon feels like as Sergio Aguero contrived to miss City's fourth straight penalty in biblical rain at the King Power.
The elements, fate, Uefa, everything was working against City. The only thing that could drag them out of this nadir was a moment of magic. De Bruyne to pick one of those sublime pass? Aguero to rifle one home from an impossible angle?
No, it was down to the rejuvenated Mahrez. Leicester backed off as their former hero ran at the heart of their defence, they knew where Mahrez was headed, but they could not stop the Algerian in full flight, before he perfectly played in Gabriel Jesus who scored the winner.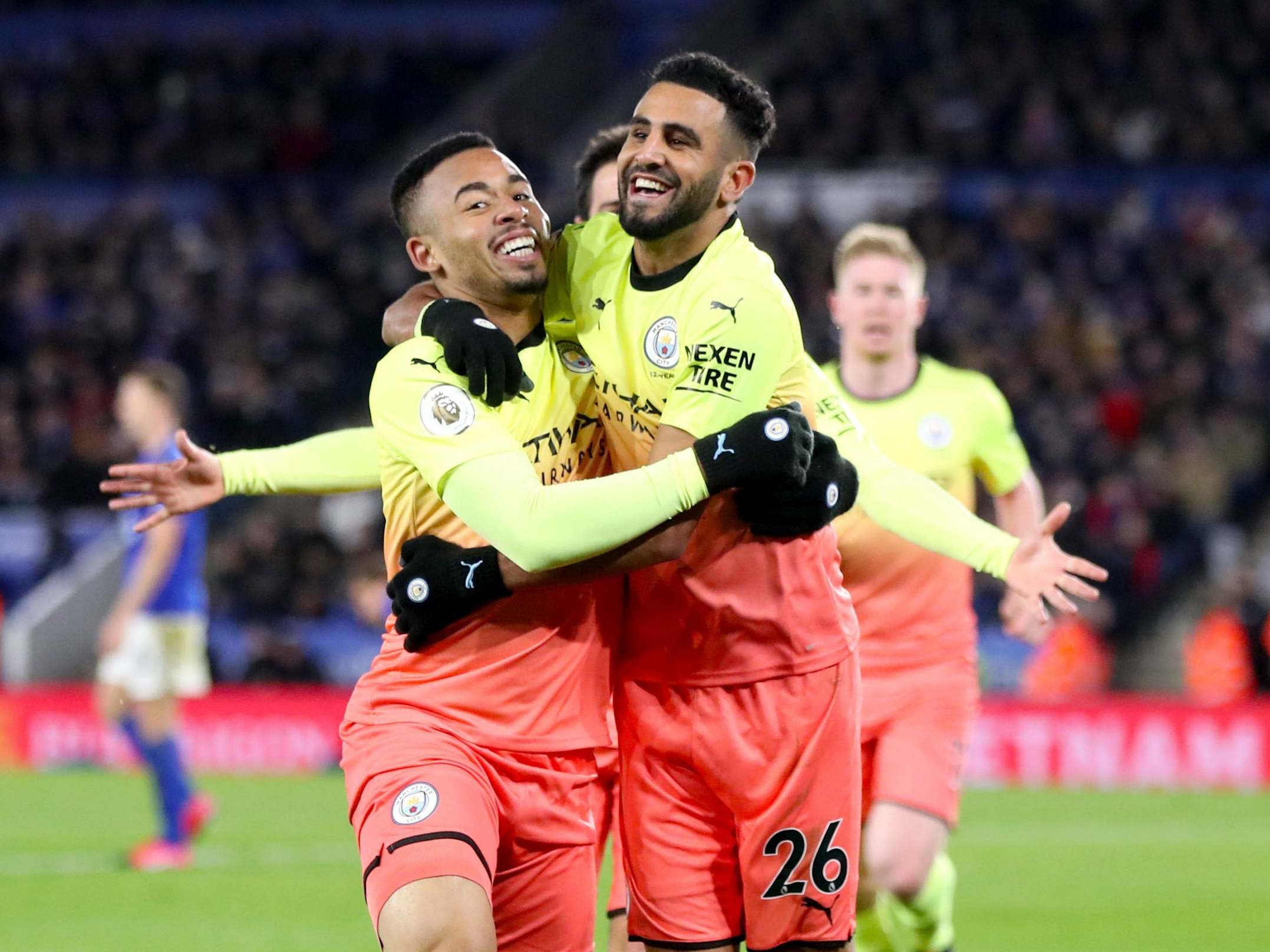 "If we don't win it [Champions League] everybody is going to say we are failures like the last five years," De Bruyne said after the Leicester win with a wry smile. "It's something we've not won yet.
"We always want to win everything but sometimes another team is better or performing well – like Liverpool are doing. But we will go there [Madrid] to win. You can't look too much forwards and see what's going to happen."
With a two-year Champions League ban looming, the pressure is on City, and a manager who many will not welcome into the pantheon of coaching greats until he has won Europe's elite competition with a team not fronted by Lionel Messi.
De Bruyne knows that Real are the toughest test in this competition, regardless of form and league position – the Champions League is what they do.
These games between the very best are often decided by an error, or a moment of inspiration, and perhaps it might be the playmaker who only Kylian Mbappe and Chelsea-bound Hakim Ziyech can match for Champions League assists this season that will be make all the difference.
No, not De Bruyne. That man is a reborn Mahrez, the man willing to drive at Real's rigid backline, one ready to step out of more established stars' shadows, as all else is coming crashing down around City, to put Guardiola in with a chance of having the last laugh.
Source: Read Full Article