Cricket Australia's hopes of retaining its $1.18 billion broadcast deal may have been salvaged after "constructive" discussions with Seven West Media.
CA chief Nick Hockley and Seven West Media managing director James Warburton held talks in Sydney on Friday, after a tumultuous week where cricket's free-to-air partner had threatened to tear up its contract over concerns this summer's scheduling would lack "quality".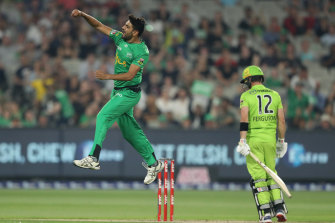 The Big Bash League is part of the TV rights dispute.Credit:Getty Images
Seven and Foxtel are CA's joint broadcast partners and underpin the sport.
"We had a constructive meeting with Cricket Australia. No decisions were made but we have agreed to keep talking," Warburton said.
A Cricket Australia spokesman said the meeting had also been constructive.
Warburton had been particularly concerned that the BBL would deteriorate this summer because of a need to have an extended Australian Test squad travel around in the four-Test series against India because of COVID-19 restrictions.
Seven, which contributes $82 million annually in fees, has engaged lawyers and has been largely unhappy with its six-year deal with CA since it was signed in 2018. It wants at least a reduction on its bill and earlier this year offered the BBL back to Channel Ten, the former host broadcaster.
Foxtel chief Patrick Delany had been due to meet with CA on Thursday but that meeting has been postponed until Tuesday. Foxtel has also expressed concerns about the quality of the BBL this summer and is seeking a reduction in fees.
The BBL has seen a drop in attendances and broadcast ratings in recent seasons, with even Australian white-ball captain Aaron Finch – one of the BBL's marquee names – admitting the decision to expand from 10 to 14 matches per side in the eight-team competition had been unwise.
A lack of international "star power" has also been an increasing issue in recent years but CA hopes to ease this by opening its cheque book this summer.
CA has yet to release an updated fixture for the tournament, slated to begin on December 3, but more details are due next week. This includes the Test summer, with CA on Friday still planning for the Test against Afghanistan in Perth from November 21 to go ahead but Western Australia's refusal to open up its border before December is a major issue. A planned white-ball series against India in Perth, to be shown exclusively on Fox Sports, is also under threat.
CA is planning for the Boxing Day Test to remain in Melbourne despite Victoria's COVID-19 issues but some officials admit it could be shifted.
The Sheffield Shield is also on the agenda once government exemptions are granted.
The discussions between CA and Seven came as CA confirmed the full 59-game season of the Women's Big Bash League will be hosted in a Sydney hub, beginning on October 25.
Fixture, venues and broadcast times were not released but Foxtel and Seven will telecast 26 matches.
Alistair Dobson, CA's Big Bash Leagues boss, said the safety of players, staff, officials and the public had been a priority.
"We want to thank the NSW government for their willingness to work together to deliver the WBBL|06 competition in Sydney," Dobson said.
"Thanks must also go to our broadcasters, partners, players and staff for their outstanding support as we navigate what has been a challenging period."
The original schedule, released in July, had featured a three-week Sydney hub to deal with COVID-19 constraints but the matches slated for the other state capitals have been scrapped.
CA says travel and quarantine plans for the overseas contracted players – there are eight South Africans, seven New Zealanders and two West Indians involved – have yet to be settled.
As reported by The Age and Sydney Morning Herald, the implementation of hubs through the domestic and international Australian summer will cost CA about $30 million.
The WBBL will be staged after the white-ball women's series between Australia and New Zealand, to be played in a hub at Allan Border Field in Brisbane from September 26 to October 7.
Most Viewed in Sport
Source: Read Full Article