Ash Barty and Daria Gavrilova are set for a round 2 battle on one of the biggest show courts in the world on Thursday – it's a far cry from their last encounter in a carpark.
Fifth seed stumbles in awkward interview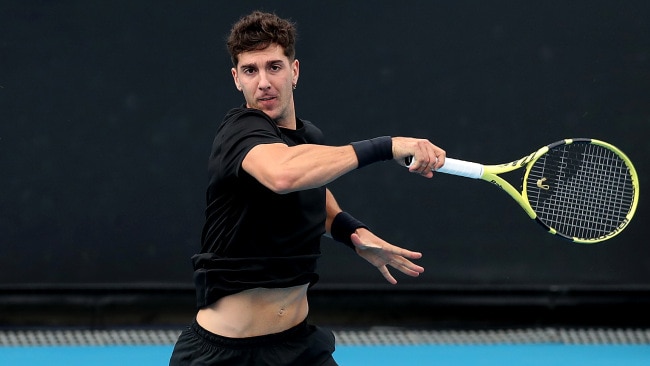 MELBOURNE, AUSTRALIA – FEBRUARY 01: Thanasi Kokkinakis of Australia plays a forehand in his match against Alex Bolt of Australia during day one of the ATP 250 Murray River Open at Melbourne Park on February 01, 2021 in Melbourne, Australia. (Photo by Graham Denholm/Getty Images)
Daria Gavrilova is in such awe of Ash Barty – her second-round Australian Open opponent – that she was reluctant to ask her for a lift to training in recent weeks.
Gavrilova shared the amusing story of her shyness towards the world No.1 in the aftermath of her straight-sets victory over dogged Spaniard Sara Sorribes Tormo late on Tuesday night.
Their match will almost certainly be scheduled for under lights at Rod Laver Arena on Thursday, a prospect Gavrilova is already giddy about.
They're two of 12 Australians who advanced to round two, the host nation's best Australian Open result since 15 locals progressed from round one in 1992.
The clash will be a far cry from the day Gavrilova found herself stranded and in need of Barty's help before a recent training session at Xavier College's tennis facility.
"(Barty) was training at Xavier while the internationals were in quarantine, and me and Luke (Saville, Gavrilova's fiancé) are sharing one car and he left, but he was going to drop me off," Gavrilova said.
"Anyway, long story. I was scared to ask Ash for a lift. I was like, 'Ash, can you please give me a lift?'. She's like, 'Oh, my God, you're an idiot. Like, let's go'.
"She's incredible. She's someone if we travel, she's the first one to find a good coffee shop and she's a morning person. She loves her coffee.
"But we are probably, definitely, completely different personalities. Like complete opposite. But we get along on tour, and she's someone I definitely look up to."
The bubbly Gavrilova – who's been as high as No.20 in the world – moved speedily around the court in her win over Sorribes Tormo, proving she's left behind her series of foot-related injury woes.
However, the 26-year-old's fully aware Barty will be a far tougher proposition, after the 2019 French Open champion breezed past Danka Kovinic without dropping a game earlier in the night.
Barty's won two of her three matches with Gavrilova at WTA level, and has ascended to the top of the rankings since the most recent of those contests almost two years ago.
"I'm pretty excited. I mean, I haven't played Ash in ages – it's going to be really fun," Gavrilova said.
"I don't know what court we are going to be on, but I love the big show and I'm sure a lot of people are going to come out and watch."
For Barty's part, she's also looking forward to playing against Gavrilova in a high-stakes match.
"Dasha and I have been Fed Cup teammates for a long time now and we know each other well," Barty said.
"'Tyz' (Craig Tyzzer, Barty's coach) coached Dasha for a couple of years and we spend a lot of time together, so it will be a challenge (but) I'll enjoy it.
"I always enjoy testing myself against other Aussies. It will be a ripper."
Live Updates
Related topics
Comments
Add your comment to this story
To join the conversation, please Log in. Don't have an account? Sign up
Join the conversation, you are commenting as Logout
Source: Read Full Article