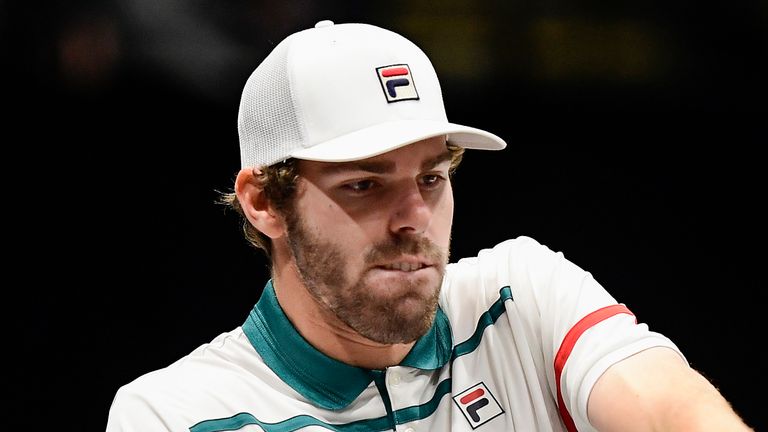 Reilly Opelka beat Japan's Yoshihito Nishioka in three sets to win his second career ATP Tour title at the Delray Beach Open in Florida on Sunday.
The fourth-seeded Opelka clinched victory in style, pounding his 27th ace of the match down the centre line for a 7-5 6-7(4) 6-2 triumph.
"I'm just really proud of the way I fought in the third set," Opelka said. "I got an early break and I broke again. Physically I was feeling pretty good. If he broke me and we had to play more tennis, I was fine."
The King of Delray! ?
?? Reilly Opelka notches his first @DelrayBeachOpen crown over Nishioka 7-5 6-7(4) 6-2. ?pic.twitter.com/GnnMqhj1Wj
Opelka won the first set after crushing a forehand at 6-5 to earn his third set point. A cross-court backhand passing shot that Nishioka could not handle ended the set and sent Opelka, sprinting to his chair, smacking his chest in celebration.
Nishioka forced a tie-break in the second, which he won when Opelka sent a ground-stroke long.
But the Japanese player double faulted in the first game of the third set to give Opelka the break and the 22-year-old American finished off the match with his big ace.
Title No. 2 for the big man ?
The @DelrayBeachOpen champ has a message for everyone ? pic.twitter.com/2liiX2rVpz
"It's very tough to break his service games," Nishioka said. "In the third set a little bit I lost my mind and maybe he saw it, he came out and tried to be a little bit aggressive. It worked. That was key in this game."
Opelka had surprised Canada's second-seeded Milos Raonic 4-6 7-6(6) 6-3 in their rain-delayed semi-final earlier on Sunday to set up the meeting with the rested Nishioka.
Nishioka had beaten France's Ugo Humbert 1-6 6-4 6-0 on Saturday before rain washed out other matches at the Florida tournament.
Opelka's only other title came a year ago in the New York Open.
The doubles crown was won by Mike Bryan and Bob Bryan as they beat Luke Bambridge and Ben McLachlan 3-6 7-5 (10-5).
Third-seeded Cristian Garn fended off Italian qualifier Gianluca Mager 7-6 (3) 7-5 in Sunday's rain-hit final to win the Rio Open.
It was Garin's second title this year after winning the Cordoba Open in Argentina earlier in February. The 25th-ranked Chilean is projected to make the top 20 when the updated rankings are published Monday.
A moment he'll never forget ?
Soak it in, @Garin_Cris ❤️
?: @TennisTV | @RioOpenOficial pic.twitter.com/Ad7VWGA9ZT
"The truth is that I am very happy," said Garin.
"It was an incredible week. It was a week that I can't even describe it. It was very good in all aspects.
"The first round took a toll on me. To stay the whole day yesterday at the club here, to sleep 4 or 5 hours, to wake up very nervous to play a game that was postponed and it ends up being one of the best weeks of my life. It means a lot to me winning here."
Sealed with a ?
With this win, @Garin_Cris will break the Top 20 in the @FedEx ATP Rankings for the first time in his career ?#RioOpen pic.twitter.com/7eJXLE4lhp
Despite breaking in the first game of the match, Garin struggled at times against Mager, who beat top-seeded Dominic Thiem in the quarter-finals.
Mager had reached the final after conceding only one set in the entire tournament. Hours before the decider he faced a tough challenge in the semi-finals against Hungary's Attila Balazs.
Both semi-finals were finished Sunday afternoon after rain halted play shortly after midnight when Garin and Mager had already won the first set.
Garin quickly beat fifth-seeded Borna Coric 6-4 7-5 at the clay-court tournament, but the 128th-ranked Mager had a tougher time in finishing off Balazs, eventually prevailing 7-6 (4) 4-6 7-6 (2).
Marcel Granollers and Horacio Zeballos ran out doubles winners after their 6-4 5-7 (10-7) victory over Federico Gaio and Salvatore Caruso.
Source: Read Full Article