The Barty-Goolagong Cawley connection
On the eve of this year's Wimbledon championships, a delightful video was released with Barty narrating the story behind Goolagong Cawley's integral role at Wimbledon in the 1970s.
The Indigenous Australian famously won the title by 1971 by beating Margaret Court and won it for a second time as a mother in 1980.
Around the courts …
There's another Australian who has a big day … Dylan Alcott.
But his wheelchair quad singles final has been affected by the rain and, after a long delay, is now about to begin.
PREVIEW: Barty ready to punch above her weight once again
Ashleigh Barty does more than punch above her weight on the pro tennis tour, but a significant height differential looms as one of the biggest factors for her to overcome to win this year's Wimbledon ladies' singles title.
At 186 centimetres, former world No.1 Karolina Pliskova hovers above most players at or close to the top of the women's game. But it's the Czech's clean ball striking and the difficulty of breaking down her big serve that stand in Barty's way in her quest to fulfil a childhood dream by winning Wimbledon.
Ashleigh Barty versus Karolina PliskovaCredit:Getty Images
What would Ash versus Evonne look like?
Well, we asked former Australian doubles champion Paul NcNamee.
"Ashleigh Barty and Evonne Goolagong Cawley are two extremely popular Aussies. They're kindred spirits, indelibly linked by their roots, their style, and something else – their modesty. By early Sunday morning, they might both just be Wimbledon champions," he writes.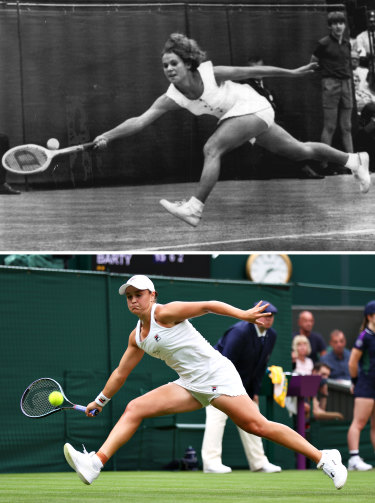 Ash Barty's Wimbledon progress echoes that of her mentor Evonne Goolagong five decades ago.Credit:Getty
"For the final, Ash will be dressed in style. She'll be wearing a dress inspired and remodelled on the one Evonne wore in 1971, albeit with a hemline Evonne, at the time, was almost too modest to wear. Times change.
"The similarities do not start and finish with the attire, of course. Evonne was perhaps the best volleyer of her era. Ditto for Ash, something quite handy for those pivotal points on grass which can change the course of a match. Another game style feature they share is the slice backhand, a signature of Evonne's, and now synonymous with Ash, and almost as iconic as the vanilla slice in bakeries across the length and breadth of Australia."
READ MORE
It's time: Ladies' finals day at Wimbledon
Good evening (and perhaps good morning to some).
Welcome to our blow-by-blow, game-by-game coverage of a simply massive event for Australian tennis and the nation's world No.1 Ashleigh Barty. The 25-year-old comes up against Czech Karolina Pliskova in the Wimbledon final and has the chance to end a 41-year wait for Australia to produce a women's singles winner in London. Who was that winner in 1980? None other than Evonne Goolagong Cawley, who is now a good friend of Barty.
A reminder: play is due to begin at 11pm AEST
Most Viewed in Sport
Source: Read Full Article